Nueva Palmira Port
Project Type
General Cargo Facility
Client
Christophersen S.A. and Agencia Marítima Schandy S.A.
Project Value
USD 8 million
Project Period
2001 - 2001
Current Status
Completed
Services
Cost Estimate • Feasibility Study • Condition Survey • Concept Design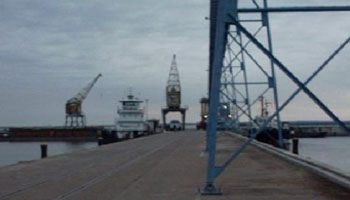 Description
Nueva Palmira is located near the mouth of the Uruguay River, in the Republica Oriental del Uruguay. The main cargoes handled by Nueva Palmira Port are grains and citrus products for export. In addition, the port handles other products such as cement, fertiliser, timber and general cargo. Christophersen S.A. and Agencia Marítima Schandy S.A. contracted Cullen Grummitt & Roe to carry out a feasibility study into the extension and improvement of the existing wharf at Nueva Palmira Port.

Cullen Grummitt & Roe visited the site, obtained all the necessary data and carried out a detailed inspection of the existing facilities.

A detailed feasibility study was then undertaken, involving:
Data collection, assessment and analysis of the historic ship and cargo data and, in conjunction with the client, an assessment of future ship and cargo trends.
Preparation of plans of various options for the expansion of the port to meet the projected future trade.
Evaluation of the structural capacity of the existing wharf.
Cost estimates of the proposed wharf extension works.