Montevideo Woodchip Terminal
Project Type
Bulk Terminal
Client
Obrinel SA
Project Value
USD 41.5 million
Project Period
2003 - 2004
Current Status
Completed
Services
Preliminary Design • Cost Estimate • Feasibility Study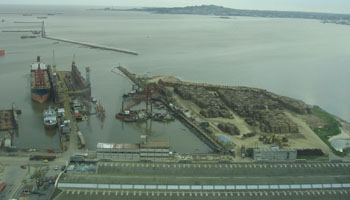 Description
CGR was commissioned to undertake a feasibility study into a proposed woodchip export terminal in the port of Montevideo, Uruguay. The study involved developing an optimal layout for the terminal and preparing a cost estimate for the development.

The project involved an existing land area within the port of Montevideo which was required to be converted into a woodchip terminal. This required the demolition of buildings and the construction of new woodchip processing building, offices and gatehouses. In addition, reclamation was required to provide area for storage of the woodchip.

The loading arrangement consisted of an elevated conveyor approximately 780 metres in length from the storage yard to the export berth, which was required to span over a channel for sports craft with a clearance above water level of 21 metres. The berth comprised three platforms supporting a travelling loader over a distance of 100 metres. Four independent berthing dolphins and two mooring dolphins were provided for the export vessels.

The study was undertaken by both the Buenos Aires and Brisbane offices of CGR, together with a specialist mechanical consultant in Buenos Aires who was responsible for the shiploader and conveyors.