Montevideo
Project Type
Container Terminal
Client
Maersk South America
Project Value
USD 35 million
Project Period
1997 - 1999
Current Status
Completed
Services
Master Plan • Cost Estimate • Privatization Tender • Tender Assessment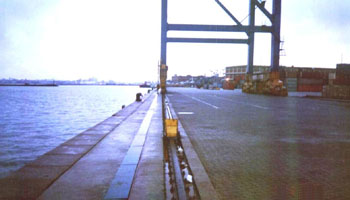 Description
Cullen Grummitt & Roe, in conjunction with our client, was involved in the planning, costing and preparation of a tender for the privatization of an existing container terminal in Montevideo, the capital of Uruguay. Our client was the successful tenderer for this project.

The proposed redevelopment of the terminal involved civil works including:
Construction of a new wharf 250 metres long by 35 metres wide.
Reclamation of an area of 7 hectares.
Construction of pavements on the reclaimed area.
Reconstruction of pavements on the existing site over an area of 10 hectares.
Repair and rehabilitation of the existing crane beams and caisson structure.
Construction of crane beams and rails suitable for cranes to service Panamax sized ships.
Provision of new services to the reclaimed area and the existing site including new electrical supply, communications systems and water.
New workshop, office, administration and gatehouse buildings.

Cullen Grummitt & Roe's initial services included detailed inspection of the existing facilities, planning of further developments and associated cost estimates for input into the financial model, and preparation and co-ordination of the tender document for submission to the Port Authority.

The award of the concession to our client was made in December 1997.

Subsequent to the initial award, the port privatisation has been re-tendered. Cullen Grummitt & Roe again worked with our client in the preparation of a second successful tender before again the port cancelled the award.