Marina and Cruise Terminal
Project Type
Passenger and Cruise Facility
Client
Bandeluz S.A.
Project Value
USD 111 million
Project Period
2006 - 2006
Current Status
Completed
Services
Cost Estimate • Feasibility Study • Concept Design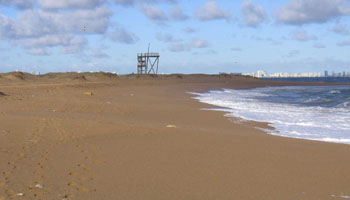 Description
The Group Bandeluz S.A. of Montevideo, Uruguay submitted a private initiative to the Government of Uruguay for the development of a new Marina and Cruise Terminal at the Punta del Chileno location, close to the city of Punta del Este.

Punta del Este is the main tourist city of Uruguay and one of the top tourists destinations of South America.

The proposed Marina and Cruise Terminal included:
Two breakwaters
One mooring site for cruise vessels of up to 180 m length
One mooring site for ferries
A 750 vessel marina for small yachts and motor boats
A motorboat dry yard and garage
A reclamation area over the existing beach, including a shoreline wall

Cullen Grummitt & Roe visited the site, obtained all the necessary data and developed all the documentation and studies required by the Uruguayan Authorities for approval of the project, including bathymetry and topographic surveys, preliminary geotechnical studies and preliminary maritime hydraulic studies.

CGR engineers also represented the Client in meetings with the highest level Officials of the Uruguayan Government, providing technical advice to support their initiative.