Rio de Janeiro Steel Terminal
Project Type
Bulk Terminal
Client
Triunfo Operadoro Portuaria Ltda
Project Value
Not Available
Project Period
1998 - 1998
Current Status
Completed
Services
Master Plan • Operational Review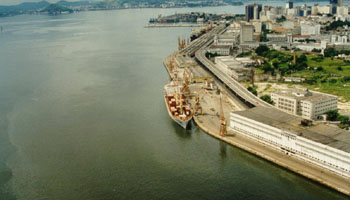 Description
Our client was awarded a long-term contract for the operation of the Rio de Janeiro steel terminal. The facility operates from two sites and a master plan for the operations was required.
Cullen Grummitt & Roe advised on:
Storage arrangements for various steel product including coil, wire rod, plate and pipe.
The most appropriate machinery for use in handling operations.
Layout design of a quayside storage warehouse with an opening roof to allow direct loading of product from warehouse to ship.
Delivery arrangements for the site from road and rail.
Truck parking arrangements to maximise operational efficiency
Relocation of an oil ship loading manifold.

Cullen Grummitt & Roe visited the site and obtained the data necessary to carry out a berth occupancy analysis. CGR prepared a report detailing proposed operational arrangements and future developments including an enclosed building for steel product storage.