Propeller Jet Scour Revetment Design, Portbury
Project Type
Structural Works
Client
Waterman Burrow Crocker
Project Value
Not Available
Project Period
2001 - 2002
Current Status
Completed
Services
Operational Review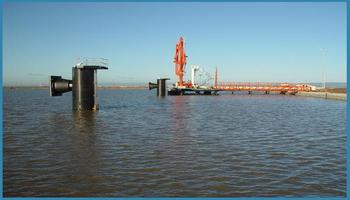 Description
A new berth at Portbury was being developed to cater for Capesize bulk carrier vessels. The berth is situated within an impounded lock where tug assistance for berthing and unberthing is essential due to the minimal space available for manoeuvring of the vessels. The tug manoeuvres involve directing propeller jet flows (including flows from Kort nozzles) towards a silty bank. The bank was identified as vulnerable to scour and erosion during these unavoidable manoeuvres. The propeller wash from the bulk vessel was also considered as a potential initiator of scour on the bank in certain circumstances.

Cullen Grummitt & Roe was commissioned by Waterman Burrow Crocker, the lead consultant. Specialist advice was provided with regards to investigating the manoeuvring operations and the propeller jet velocities impacting on the bank with recommendations made for the appropriate slope protection.

Cullen Grummitt & Roe provided a technical report to Waterman Burrow Crocker recommending various possible revetment alternatives. The report also addressed important detailing issues related to the construction of the scour protection and then made recommendations related to the need for ongoing monitoring for when the berth became operational.

The project was developed as a design and construct scheme with John Mowlem Construction plc acting as the contractor.