DP World Southampton Container Terminal
Project Type
Container Terminal
Client
Southampton Container Terminal
Project Value
Not Available
Project Period
2008 - 2010
Current Status
Completed
Services
Master Plan • Contract Documentation • Project Management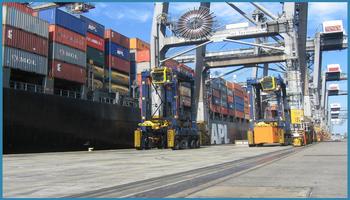 Description
Southampton Container Terminal is one of the UK's largest container terminals and is a joint venture between DP World and Associated British Ports (ABP). ABP is the landlord and owner of the land while DP World manages and operates the facility. The terminal is currently operated by 11 quay cranes and approximately 115 straddle carriers for yard operations. The straddle carriers are a combination of 2, 3 and 4 high. Empty handlers are used for empty container storage.

In 2006, CGR completed a master plan for the potential redevelopment of SCT. This master plan included the transition of the site from straddle carrier operations to a semi-automated container terminal layout, including sprinter straddle operations at the quay-side. The master plan defined the staged development of the total site. The first stage of the proposed re-development includes the construction of new yard areas at Berth 201 and 202 combined with a new buildings and entrance area. After the development of the new buildings, the current building area can be demolished and the land re-developed to create additional stacking yard.

SCT has proposed to redevelop the terminal generally in line with the master plan, taking account of revisions required due to ongoing refinement of the site operations and site boundaries.

To date, CGR has revised and developed the proposed terminal layout paying particular attention to the long term access requirements and the proposed location of the new terminal buildings. CGR has also carried out a comprehensive review of the existing geotechnical investigations and prepared, issued and managed competitive tenders for new geotechnical investigation and topographic surveys of the whole site.

CGR gathered extensive information on the existing use and staff numbers accommodated within the current administration, workshop and amenities buildings as part of the preparation of layouts for the new buildings. Preparation of the Design and Construct tender documentation was also undertaken for the development of the new Administration building and workshop for the Terminal.

CGR was appointed as CDM Co-ordinator for this stage of the redevelopment.
Related Projects