Northern Extension of Pier 2
Project Type
Container Terminal
Client
Portuaria Lirquen S.A.
Project Value
Not Available
Project Period
2007 - 2011
Current Status
Completed
Services
Detailed Design • Contract Documentation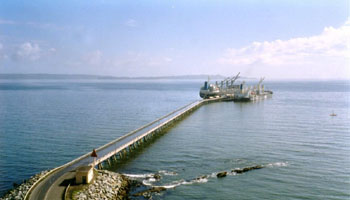 Description
Analysis of current and future operational requirements for Pier 2 at Puerto Lirquen, which were conducted by Cullen Grummitt & Roe, have identified a need for the extension of the pier, in order to meet the predicted increase in container trade volumes and in order to cope with the general increase in vessel sizes.

Cullen Grummitt and Roe was commissioned by Portuaria Lirquen S.A. to carry out the detailed design of the proposed 68m extension to Pier 2. The structural form of the extension is a reinforced concrete superstructure supported on driven steel tubular piles.

Seismic design was a particular consideration throughout the project, as the pier is located in a region of high seismic activity. As required by Chilean design standards, the seismic design was carried out by a complex CQC seismic response analysis. It is also important that the seismic behaviour of the wharf extension matches that of the existing wharf structure to ensure compatibility of behaviour for the sake of equipment working on the pier. Significant work was undertaken to ensure that this is the case.
The project works were completed in 2011.
Related Projects