Crane Specification and Review
Project Type
Container Terminal
Client
Portuaria Lirquen S.A.
Project Value
Not Available
Project Period
1999 - 2004
Current Status
Completed
Services
Operational Review • Tender Assessment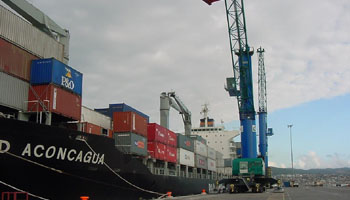 Description
Cullen Grummitt & Roe was commissioned by Portuaria Lirquen S.A. to assist them with certain aspects of crane selection for their Pier 2 wharf operations. Puerto Lirquen is a privately owned facility in the south of Chile which handles timber, containers, fertiliser, bulk and general cargo. Until the mid-1990's, most of the ports in Chile had not been equipped with on-shore cranes, rather they relied on self geared vessels calling at the terminals. With the privatisation of many of the government owned facilities in 1999, a change occurred meaning that most terminals were required to consider investing in some form of onshore cranes.

With this change in operating philosophy, Portuaria Lirquen undertook a detailed analysis into what type of cranes to acquire and what key operating parameters were necessary to suit their current trade as well as their anticipated trade growth. Associated with the development of an overall master plan for the development of the terminal, CGR worked with Portuaria Lirquen to define their cranage needs. The work involved consideration of both mobile cranes and quay gantry cranes. CGR undertook a detailed review of quay crane tenders and made recommendations relating to equipment, operational requirements and maintenance needs.

CGR also completed a detailed structural analysis to consider the operation of mobile cranes on the existing pier structure. This structure was built in the mid 1990's but it had not been designed considering mobile crane operation. The structure was a concrete deck superstructure with a steel beam sub-structure suspended on steel tubular piles. The pier was also to be widened to allow more flexible operations. CGR was responsible for the design of the widening works.

The analysis undertaken by CGR included detailed structural calculations to consider the travelling and operational loads on the pier as well as the travelling loads for the cranes across the access bridge to the pier. Both physical and structural limitations existed relating to the traverse of the crane over the access bridge. The site is in a significant seismic zone and hence the impact of the earthquake loads on the crane operations was considered in the analysis. The results of the analysis indicated that mobile cranes could travel and operate on the pier. The outrigger pads were required to be positioned within defined areas along the pier and special, large size propping pads were to be utilised to spread the operational loads over larger areas.

In 2000, Portuaria Lirquen purchased two LHM400 mobile harbour cranes and these cranes have safely and successfully been operating at the facility. In 2004 after further analysis by CGR, Portuaria Lirquen S.A. procured LHM500 and LHM550 cranes to also operate at the site.