Container Terminal at Port of Suape
Project Type
Container Terminal
Client
P&O Ports
Project Value
USD 20 million
Project Period
2001 - present
Current Status
Completed
Services
Preliminary Design • Cost Estimate • Assessment of Existing Infrastructure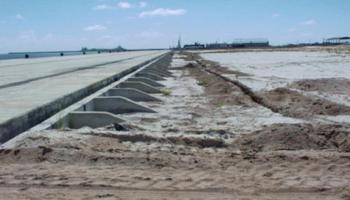 Description
The Government of the State of Pernambuco in Northern Brazil called tenders for the privatization of a container terminal within the Suape Industrial Port Complex. The terminal to be concessioned was a new facility, consisting only of a wharf structure and an incomplete reclaimed area.
CGR was commissioned by P&O Ports to evaluate the condition of the existing infrastructure, assess its suitability for the intended purpose, determine repair or strenghtening measures required and to define the proposed terminal layout.
CGR's personnel visited the site in conjunction with P&O, inspected the existing facilities and also met with Suape Port Authority to gather all the necessary data to undertake the study.
Following a structural analysis of the existing wharf, it was determined that it was not adequate to carry the proposed quay crane loads. Strengthening measures were then proposed. Remedial measure to overcome settlement problems in the backfill area caused by washing of the soil through the retaining structure were also proposed.
CGR also prepared staged development drawings for the proposed terminal, together with their associated cost estimates and an investment plan.