Yorkhill Basin, Glasgow
Project Type
Civil Works
Client
Raynesway Construction Services
Project Value
Not Available
Project Period
2002 - present
Current Status
Completed
Services
Preliminary Design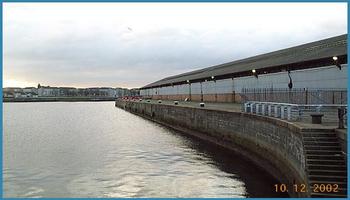 Description
The filling of the Yorkhill Basin is part of the Glasgow Harbour Redevelopment Scheme. A design and construct tender was called for the enclosing and filling of the basin.

In conjunction with local engineering partners, CGR undertook preliminary design for the design and construct tender for Raynesway Construction Services. CGR was responsible for :
The preliminary design of the temporary/permanent stormwater drainage, including modifications to the existing system;
The preliminary design of the enclosing wall;
The preliminary design of the supports for the relocated existing bollards;
Providing adequate information to enable the client to determine construction costs; and,
Producing the drawings that were submitted with the tender.

The enclosing wall was required to consist of concrete steps extending to below water level with a vertical face below this. CGR liased closely with the client in matters such as the client's preferred construction materials, construction methods and the available materials and considered a number of different structural systems to ensure the most economical design. The preliminary enclosing wall structure consisted precast and insitu reinforced concrete elements supported on precast concrete piles forming the steps and a steel combi-wall system, consisting of a mixture of sheet pile wall and steel pipe elements, forming the vertical retaining wall. The Tender Specification required the enclosing wall structure to have a 120 year low maintenance life.