Humber Sea Terminal
Project Type
Marina
Client
Mowlem Marine Limited
Project Value
Not Available
Project Period
2002 - present
Current Status
Completed
Services
Preliminary Design • Contract Documentation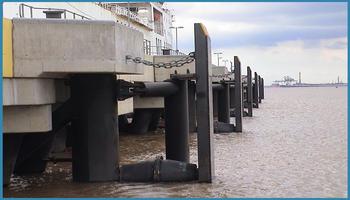 Description
The Phase 2 expansion of the Humber Sea Terminal included a 230m x 40m finger pier able to accommodate mobile and rail mounted cranes, an access bridge extending from the existing access bridge, two mooring/berthing dolphins and access walkways and services. The design vessel ranged up to 35,000 DT.

CGR undertook preliminary design for the design and construct tender for Mowlem Marine. CGR was responsible for:
The preliminary design of the finger pier, fenders and finger pier services;
Providing advice on the adequacy/feasibility of the specified requirements;
Providing adequate information to enable the client to determine competitive construction costs;
Producing the drawings that were submitted with the tender.

The design of the marine structures provided for the 11m tide range, the strong 2.5m/s design current, the presence of chalk at a relatively shallow depth and the specified requirement to place low level access platforms along the working faces of the finger pier. CGR liaised closely with the client in matters such as the preferred construction materials and construction methods in order to ensure the most economical design. The preliminary wharf structure consisted of steel piles supporting a reinforced concrete superstructure formed from precast and reinforced concrete.