Revetment Wall Repairs, Brisbane
Project Type
Civil Works
Client
Queensland Cultural Centre Trust
Project Value
AUD 430,000
Project Period
1996 - present
Current Status
Completed
Services
Site Supervision • Tender Assessment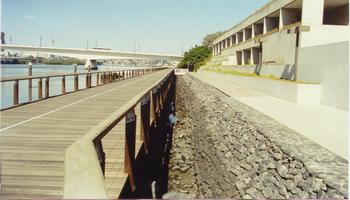 Description
The existing rock river wall in front of the Queensland Museum, Art Gallery and Library was deteriorating. Armour rocks had been dislodged, the exposed rubble fill was being eroded and parts of the wall had moved. The client required a minimum cost yet aesthetically acceptable repair solution which would minimise the future maintenance requirement.

Accordingly Cullen Grummitt & Roe organised a two-stage investigation process, firstly to identify the causes of the deterioration and suggest viable repair methods and secondly to investigate and develop the preferred repair method. Budget estimates were provided.

CGR subsequently documented the works, called and assessed tenders and provided engineering support during the construction period.