Mainline Railway Upgrade, Bundaberg to Gladstone
Project Type
Structural Works
Client
Queensland Rail
Project Value
Not Available
Project Period
1993 - 1994
Current Status
Completed
Services
Detailed Design • Contract Documentation • Technical Support During Construction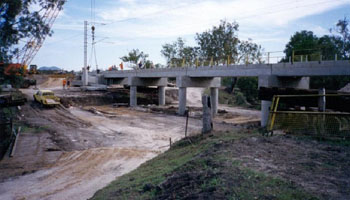 Description
The main north-south railway line running from Brisbane to Cairns was being upgraded to increase train speeds. The upgrading involved route realignment and the replacement of existing timber bridges with new concrete and/or steel bridges and culverts.

Cullen Grummitt & Roe was commissioned to undertake the detailed design and documentation of four bridges, ranging from 24m to 60m in length, and concrete culverts for the Bundaberg to Gladstone section of the line.

The bridges consisted of bored cast in situ pile foundations, reinforced concrete headstocks and ballast-filled standard prestressed concrete girder spans of up to 12m. The design considerations included hydraulic design to ensure the new bridges did not cause upstream flooding and scour protection.

The line had previously been electrified and, to minimise disruption to the rail network, remained in operation during the construction of the bridges and culverts, except for programmed 24 hour periods in which the existing bridges were demolished and the deck of the new bridge, ballast and new rails installed. All work was completed in accordance with the Queensland Rail specifications. The design of the bridges and culverts had to ensure that they could be safely constructed recognising the construction limitations.

CGR provided technical support to the Client throughout the construction phase of the works to ensure the satisfactory completion of the project.