Brisbane Cruise Port Development, Brisbane
Project Type
Other
Client
Brisbane Cruise Port Development Group
Project Value
AUD 100
Project Period
1995 - present
Current Status
On Hold
Services
Detailed Design • Contract Documentation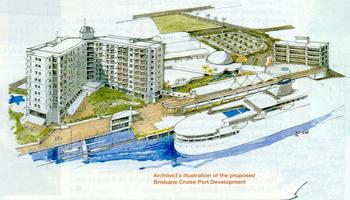 Description
The Cruise Port Group are seeking to redevelop the Brisbane Cold Store Wharf site into a new terminal for the cruise ship industry.

The fully developed site will include a terminal, office building, international hotel, an aquarium and other tourist attractions.

Cullen Grummitt and Roe is involved with the design and documentation of all wharf works and includes:
A dilapidation survey of the existing structure
Design of a new concrete deck for the wharf
Remedial treatments of the existing timber and concrete structure
New dolphin structures and fendering systems to handle passenger vessels up to 50,000 tonnes.
A small vessel area incorporating pontoons and walkways.
Obtaining Section 86 Approvals for the work beyond the high water line.