Sydney Freight Terminal
Project Type
Container Terminal
Client
Pacific National
Project Value
AUD 11 million
Project Period
2003 - 2004
Current Status
Completed
Services
Detailed Design • Contract Documentation • Site Supervision • Concept Design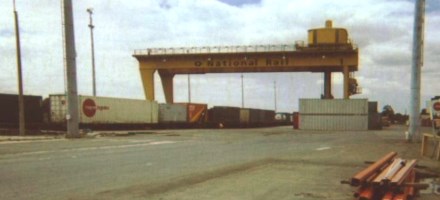 Description
CGR was commissioned to undertake the concept design, detailed design, documentation and site supervision for an upgrade and extension to National Pacific Intermodal Freight Terminal at Chullora Sydney. The intermodal facility electronically controls location and movement of containers as they are interchanged from truck to trains and visa versa, or temporarily stored on site.

The scope of work for the project included:
Advance works including demolition of some existing structures, trackwork, pavements and services
A 255m extension to the existing gantry crane runway beams, including rails and rail fixings, and relocation of the existing buffers,
Rehabilitation of the existing stormwater system as required and the construction of a new stormwater system
Construction of new heavy duty pavements to accommodate container forklifts
Installation of railway tracks, including ballast, rails, sleepers, rail fixings and buffers
Installation of new light towers and fixtures
Extension of the busbar crane power supply system
General electrical power supply
Installation of service conduits and pits, signage and line marking

The site works were undertaken in a number of phases to allow the safe diversion of terminal traffic around the works. A traffic management plan was formulated to control and redirect heavy truck traffic flow during the construction works. CGR was responsible for the programming and phasing of the works.