RoRo Terminal Scour Protection, Dover
Project Type
Passenger and Cruise Facility
Client
Mowlem Marine Ltd
Project Value
Not Available
Project Period
2003 - 2004
Current Status
Completed
Services
Detailed Design • Technical Support During Construction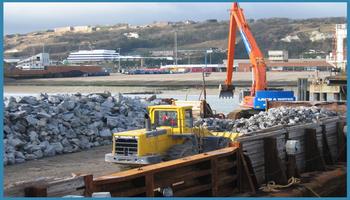 Description
CGR provided engineering design services for a D&C tender with Mowlem Marine Ltd. The project required the provision of scour protection at the Prince of Wales Pier in the Western Docks, Port of Dover.

The scour protection was required to overcome the ongoing propeller jet damage caused by the ferries that operate at the berth. Historically, this has been the SeaCat range of vessels. The damage that had been identified included the creation of a deep scour hole in the middle of the berth, breakdown of some gabion mattresses, loss of some supporting soil at the fender piles and minor undermining of the pier wall. This damage can be attributed to the operation of the ferry's main thrusters / propellers. The design brief required the protection of the existing structures from further damage.

CGR and Mowlem Marine investigated the compliant tender which was a concrete mattress solution. CGR investigated the technical specifications, construction methods and costs for several proven mattress options including pre-cast mats and grout-filled mattresses. CGR also considered the use of suitable alternatives such as the mattresses used to hold down and protect sub-sea pipelines. Restricted access, berth availability and night-time working restrictions made most mattress options very expensive.

CGR developed and designed an alternative rock protection option, using empirical design methods and incorporating the latest considerations for scour as identified by Delft University in a recent PIANC publication. Three grades of rock were required to provide adequate protection and this was specified to the latest BS EN standards which have recently been introduced in the UK. This proved to be the most economically advantageous option over the compliant design as it provided benefits in the method, timing and risks associated with the works.

Mowlem Marine's rock option tender price was formally accepted by the Dover Harbour Board.

Work on site was completed early in 2004 using approved rock sourced from the Larvik region of Norway.
Related Projects