Bell Bay Berth 6, Port of Launceston
Project Type
Container Terminal
Client
Patrick Stevedores
Project Value
Not Available
Project Period
2001 - present
Current Status
Completed
Services
Operational Review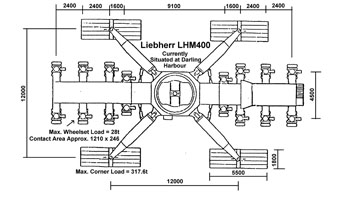 Description
This client owns a number of mobile harbour cranes which are located at different ports in Australia. CGR was engaged to determine whether two of these mobile cranes could be relocated to the Port of Launceston.

The structural drawings of the wharf were reviewed and, owing to the wharf configuration with both headstocks and longitudinal beams, CGR determined that a basic structural analysis was adequate to assess the wharf's capacity in this situation. This saved the client the expense of a detailed finite element analysis.

Both the structural capacity and the physical limitations of the wharf were investigated. The crane manufacturer was consulted to determine whether the crane could be operated with a reduced propping base. The revised loading curve was then defined by the manufacturer for the crane's amended operational configuration.

A report was prepared that clearly defined the required operational parameters for the crane including the required propping pad sizes, the propping base dimensions and the lifting restrictions. Drawings were also prepared to define four operational zones along the wharf with each zone having specific operational limitations.

A crane from Sydney was relocated to Launceston in early 2004.