Modifications to Rendering Plant, Beenleigh, Brisbane
Project Type
Civil Works
Client
Teys Bros (Beenleigh) Pty Ltd
Project Value
Not Available
Project Period
1999 - 1999
Current Status
Completed
Services
Detailed Design • Technical Support During Construction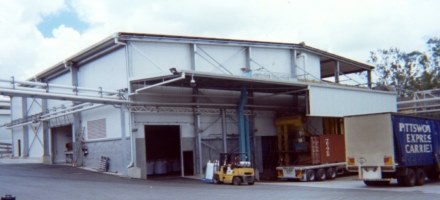 Description
The client operated a very old facility that housed boiler and rendering equipment at the abattoir.

Cullen Grummitt & Roe worked with Meateng Pty Ltd, a meat process design company, to design a new building of 1140m2 that could be installed over the existing plant in two stages.

A new boiler house building allowed existing equipment in the old building to be relocated and the old buildings were progressively dismantled as new continuous rendering equipment was installed.

CGR carried out civil and structural design of the building structure that included steel framing, concrete floors, bored pier footings and precast concrete panels in the lower section of the walls.