Food City Cold Store, Stage 1, Brisbane
Project Type
Cold Store
Client
P&O Cold Storage Ltd
Project Value
Not Available
Project Period
1979 - present
Current Status
Completed
Services
Detailed Design • Site Supervision • Project Management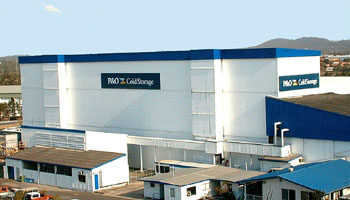 Description
Stage 1 of the Food City Cold Store included a high-rise cold room, low-rise cold room (re-erected), refrigerated handling area and annex with palletising and blast freezing rooms. Also associated with the works was an amenities block, engine room and control room.

The high rise cold room was designed and documented to allow 1,040 pallets to be accessed by stacker cranes. This cold room is 14,000m³, with an internal height of 19.6m. The stacker cranes run on three crane rails with a height to the top beam from the rail of 17.1m. The cranes were selected to operate with a SWL of 1,250 kg.

The re-erected cold room had an area of 610m², the palletising room 320m² and the blast freezing room 230m².

Cullen Grummitt & Roe was responsible for design of large sections of the civil and structural works and site services.